When you log in the Limio Subscription Commerce app, you will see a side-bar navigation on the left. This side-bar includes the core concepts of Limio, which allows marketers to create personalised, compelling acquisition and retention experiences for subscriptions. Let's go through the user concepts contained in Catalog.
Catalog User concepts
Campaign
A Campaign is a marketing effort to acquire, retain, cross-sell or upsell customers. Marketers continuously create campaigns, typically time-bound (e.g. a Christmas or Black-Friday Campaign). A Campaign is what includes your Offers and also a Page to display those Offers.
Offers
An Offer is how marketers intent to sell a Product, and what the customer will see on the Limio Shop. It defines pricing for that product. An Offer can be part of a Campaign or standalone:
To access Offers within a Campaign, go to a Campaign and click on Offers.

To access standalone Offers, click on Offers in the side bar. Standalone Offers are great if you plan on reusing them across multiple Campaigns.
An has a Product and a Price, as well as its own set of Attributes based on the Offer's Template.
| | |
| --- | --- |
| Offers within a Campaign | Standalone Offers |
| | |
Product
A Product is what marketers intend to sell, the raw material. It can be a physical product or a service. It is then used either for one-off or subscription offers. It has its own set of Attributes based on the Product's Template. Each product will have a unique product code.

Segments
Segments are groups of customers; or groups to which subscribers belong to - for example cancel reason, engagement level, prosperity to churn, region, subscription term, etc. Segments can be used for defining Journeys and A/B testing. You can set up segments to make sure that every time a subscriber buys a specific product then they get added to a specific segment as well.
Tags
The tag is the URL at which a page is made available on your domain, for example https://sandbox-shop.dev.limio.com/welcome or https://sandbox-shop.dev.limio.com/specials. The tag /default is used for your homepage.
Assets
Assets are rich media you need as part of managing your shop content with Limio. It can be images, videos, PDFs, emails, React components... Once uploaded, assets appear in the hierarchy and can be searched and added to Campaigns and Offer as an attachment or on Pages' Components (a page component is a block of content for example a header, banner, feature, section, footer, etc).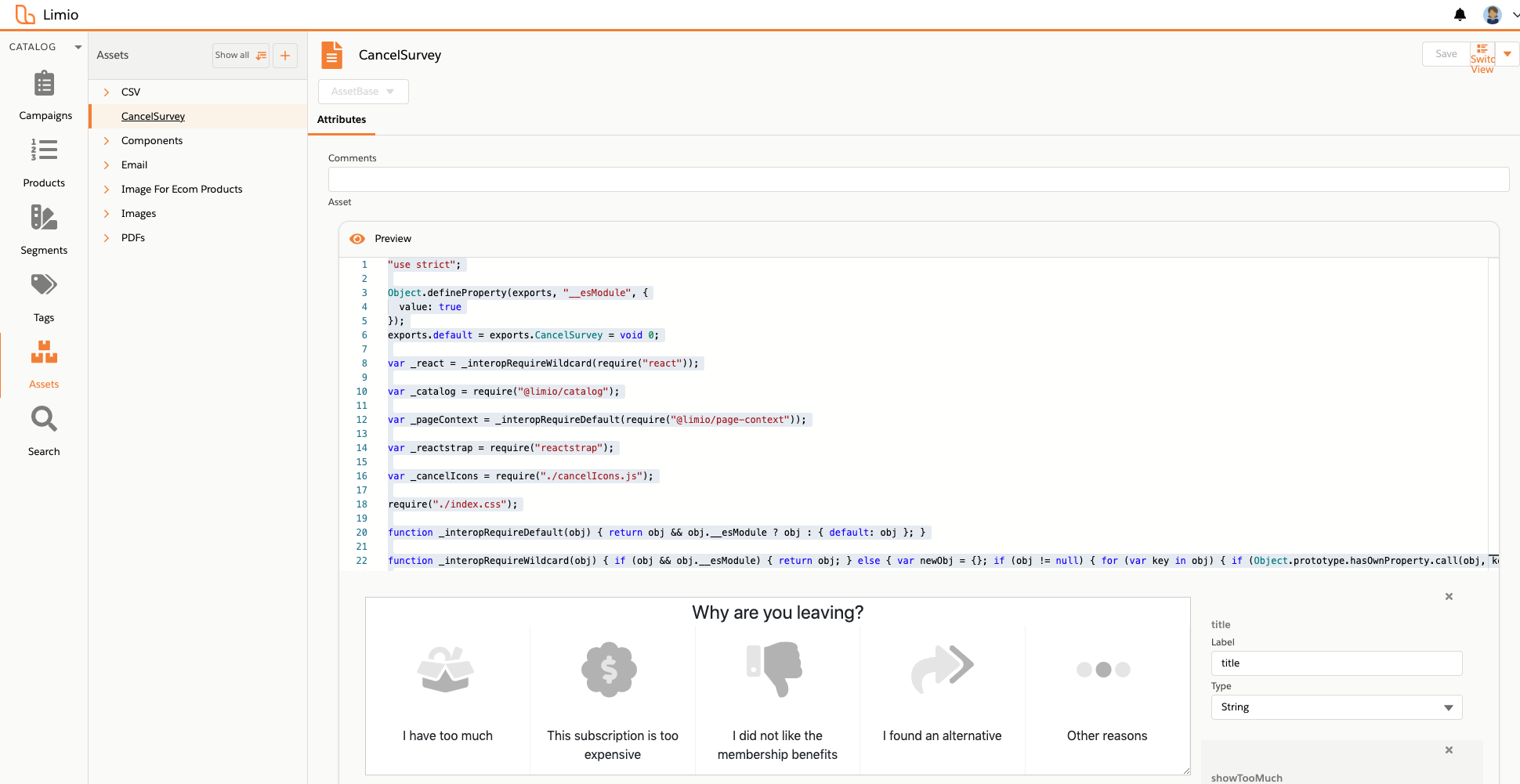 Journeys
Limio Journeys are intended to direct a customer to a specific page or a campaign. They work by the customer matching a set of conditions then an action being taken on to direct them to a URL of your choosing. Currently, Limio Journeys are very handy to organise international customers and to carry out A/B testing.

Search
Lost in your Limio data? Search is there to help you quickly identify the campaigns, offers, products you are looking for.
Page
A Page is a page for your shop that does not involve a direct sale of offers, for example a checkout, order complete, manage my account, gift card redeem, or cancel page.
Operations
The Operations bar includes a number of things. the Job Manager which lets you check whether jobs are successful, active or pending, or failing. Within the Export you can create a CSV files for any objects stored in Limio Catalog or Limio Subscriptions, such as Orders, Campaigns, Products, Segments, Tags and Assets. Mass Build and Publish allow for bulk publishing. Builds has a centralised view of the campaigns and pages' build. The Product Catalog allows you to sync third-party catalog like Zuora.
Config
Templates are core to how Limio Catalog works. A template defines the set of attributes available for the Offers, Products, Segments and Tags. Templates are entirely configurable. You can have different templates for different levels of the hierarchy and define different families of templates. A template will include a Name (system name), Label (user visible name), Description (visible as a tooltip), and a Type (string, boolean, numeric, multi-picklist...).


Subscription User concepts
Customers
A Limio Customer will track all the information related to them, including Subscriptions, Orders, Events, Identity, Address etc...
Subscription
A Limio Subscription will track all the information related to their subscription such as Offers, Schedule and Events. It can be synced with a billing system.
Orders
A Limio Order will track all the orders coming into Limio across the lifecycle (new order, cancel order, renew orders...).
Events
A Limio Event will track all the events related to a Customer or Subscription. Those includes Orders but also other changes that can happen (for example checkout_initiated).
Gift codes
Limio Gift Code will track all the gift codes purchased and redeemed by customers.