If subscribers decide to upgrade or downgrade their subscriptions, you need to be able to offer an online switch experience that maximises lifetime value. Limio offers you the ability to create a personalised switch experience and potentially prevent cancellations.
This is possible by directing the customer to switch campaigns with personalised upgrades or downgrades.
In this guide, we are assuming that you have set up a Manage My Account (MMA) portal, if not then please read our guide to setting up the MMA portal.
1. Create Switch Campaigns
🛠 This feature is in beta. Please test extensively before using it.
As part of the switch experience, you will want to suggest alternative offers to the subscribers to upgrade or downgrade to. To do that, you will need to create a Campaigns with Offers.
Drag and drop the Switch Subscription components (see details Component: Switch Subscriptions) on the Page Builder.
The Switch Subscriptions components allows you to:
filterSameTerm: This will hide offers that are on the same terms. If filterSameTrue is true, customer is subscribed to Product A Monthly and has initiated a switch from Product A Monthly, they will only see Product A Annual.

This filter will typically be set to true, except for subscriptions where subscribers change the quantity of their subscription.

blockProductSwitch: This will show offers related to different products than the one the customer has, but it will block processing changes to a different product. If blockProductSwitch is true, customer is subscribed to Product A and has initiated a switch from Product A, then they will see all Offers but will only be able to do an online switch to a Product A offer.

This filter will typically be set to true.
Finally, you will then need to add Offer(s) on the Campaign. Those are created similarly to regular offers (see How to configure your Offers). The only difference is you should set a Switch Date on the Offer.
The Switch Date has two settings:
Immediately: When the customer switches subscription, the change will be immediate, i.e. the effective date is today. They will be charged using the default payment method on the account.
End of term: When the customer switches subscription end of term, the change will be at the end of the term, i.e. when their subscription is due for renewal. They will be charged using the default payment method on the account.
2.

Create Switch Success Page
In the cases where subscribers still decide to switch their subscription, they will need to see the Swich Success Page. This Limio Component will inform subscribers that their cancellation has been canceled. Use the Order Change Success component (see Component: Order Change Success).
3. Create a Journey for your Switch experience
You will then need to create a Limio journey where you will set which Switch Campaign(s) a subscriber based on their segment (defined through the condition) or their initial product (if you sell multiple products).
To learn more how Limio journeys work and how to set one up, go to: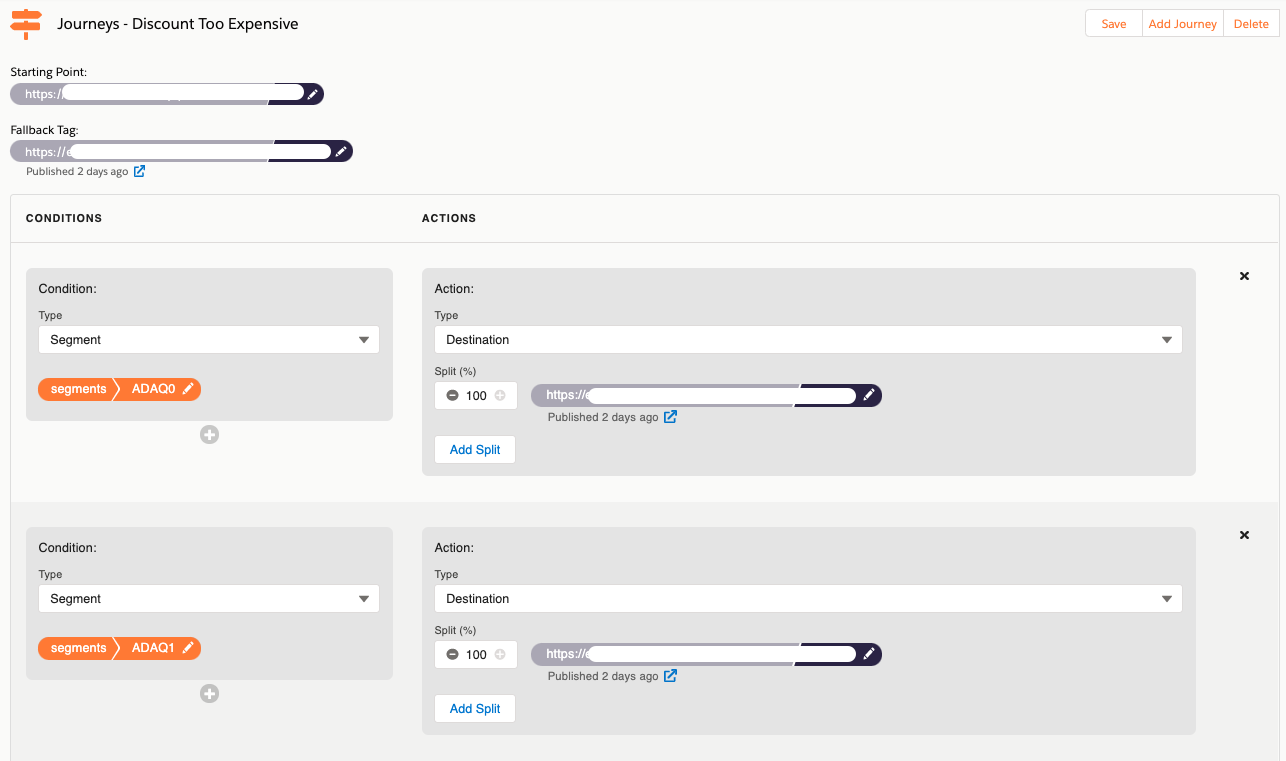 4. Testing your Switch Experience
To view your switch experience from your customers perspective, you'll need to carry out a 'Live Test' through the Manage My Account portal. This step involves you ordering up your own product and logging-in to Limio Self Service Manage My Account page with the email of your order.

Step 1 - Login to your account through the MMA portal.
Step 2 - Go to your subscriptions and click on the 'Cancel my subscription' button.
Step 3 - Within the Limio app, add manually a segment on the Limio Customer.
Step 4 - View your cancel page & go through the different cancel reasons to make sure you are taken to the right campaign or static page that you set up in the Limio Cancel Page.
If you have any questions about how to create a personalised cancel save experience, please email us at support@limio.com