If subscribers decide to cancel their subscriptions, you need to be able to offer an online cancellation experience that maximises retention. Limio offers you the ability to create a personalised cancel/save experience and potentially prevent cancellations.
This is possible by directing the customer to a special page or campaign that lists alternatives to cancelling, such as special discounts, bundles or downgrades, that aims to persuade the customer to reconsider.
If this is unsuccessful, Limio also enables you to collect valuable information about the reason for the cancellation and help you improve your product.
In this guide, we are assuming that you have set up a Manage My Account (MMA) portal, if not then please read our guide to setting up the MMA portal.
Create Cancel Reason Page
The first thing to do is create your cancel reason page in the Pages tab.
Step 1 - Add URL tag
Step 2 - Create your page - add a component "Cancel-Survey" where you will be able to edit the text as well as add reasons for cancelation and url links to where you want those cancel reasons to take subscribers should they choose one of them.
Each cancel reason that you add on your Cancel page can lead a subscriber either to
a static page (e.g. a page that prompts subscribers to contact customer support) or
a discount offer (what discount offer a subscriber gets will be based on their segment and the journey that you set up).
Create Discount Campaigns
The next thing you will need to do is create your discount campaigns and offers which will be linked to the cancel reasons above.
Create a Cancel Save Journey
Last but not least, you need to create a Limio journey where you will set which campaign (or discount offer) a subscriber goes to based on their segment.
To learn more how Limio journeys work and how to set one up, please see our guide here.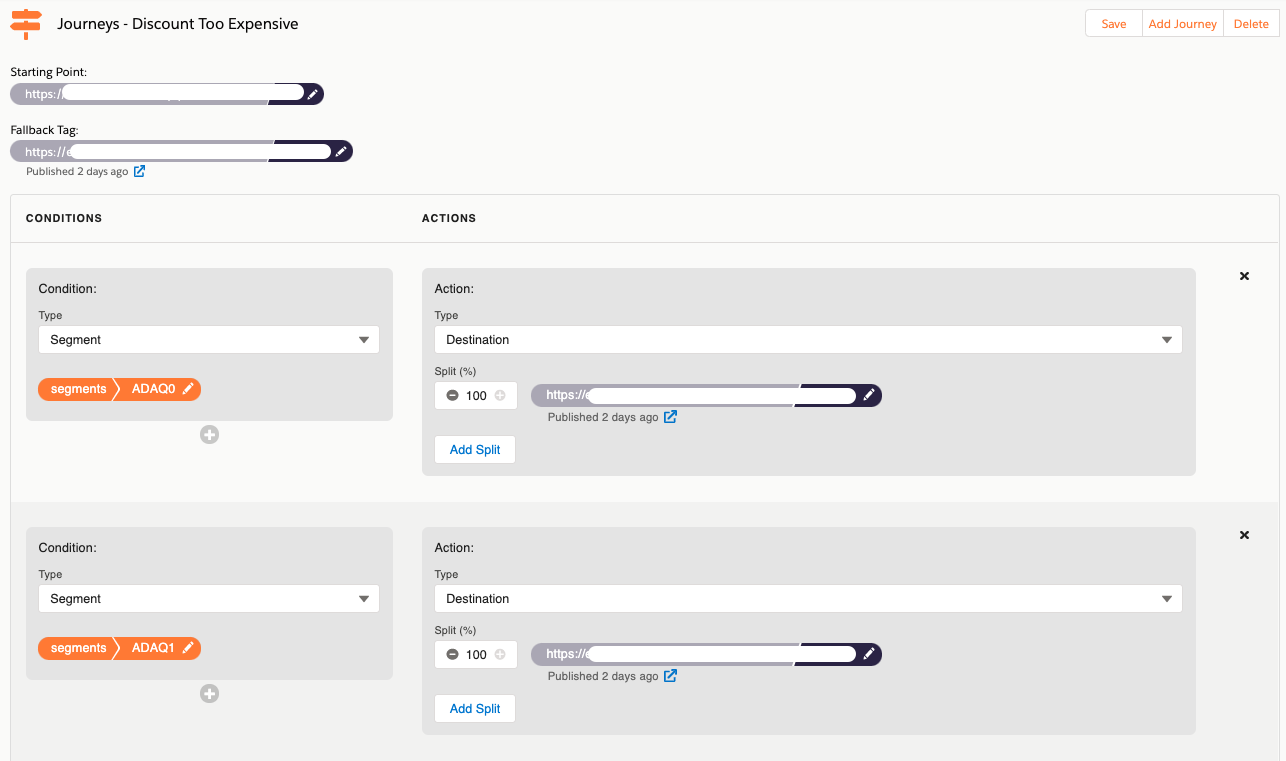 Create Cancel Success Page
In the cases where subscribers still decide to cancel their subscription, another thing you need to do as part of the cancel experience is to create a Cancel Success page which basically informs subscribers that their cancelation has been canceled.
Testing your Cancel Save Experience
To view your cancel save experience from your customers perspective, you'll need to carry out a 'Live Test' through the Manage My Account portal. This step involves you ordering up your own product and logging-in to Limio Self Service Manage My Account page with the email of your order.

Step 1 - Login to your account through the MMA portal.
Step 2 - Go to your subscriptions and click on the 'Cancel my subscription' button.
Step 3 - View your cancel page & go through the different cancel reasons to make sure you are taken to the right discount or static page that you set up in the Limio Cancel Page.
If you have any questions about how to create a personalised cancel save experience, please email us at support@limio.com
----