New Features and Improvements
Combined invoices
In Limio it is now able to create one invoice for all subscriptions which is very useful for customers who have more than one subscription. To enable this feature just go to the Zuora settings page and select "Set subscriptions to combine invoices rather than separately".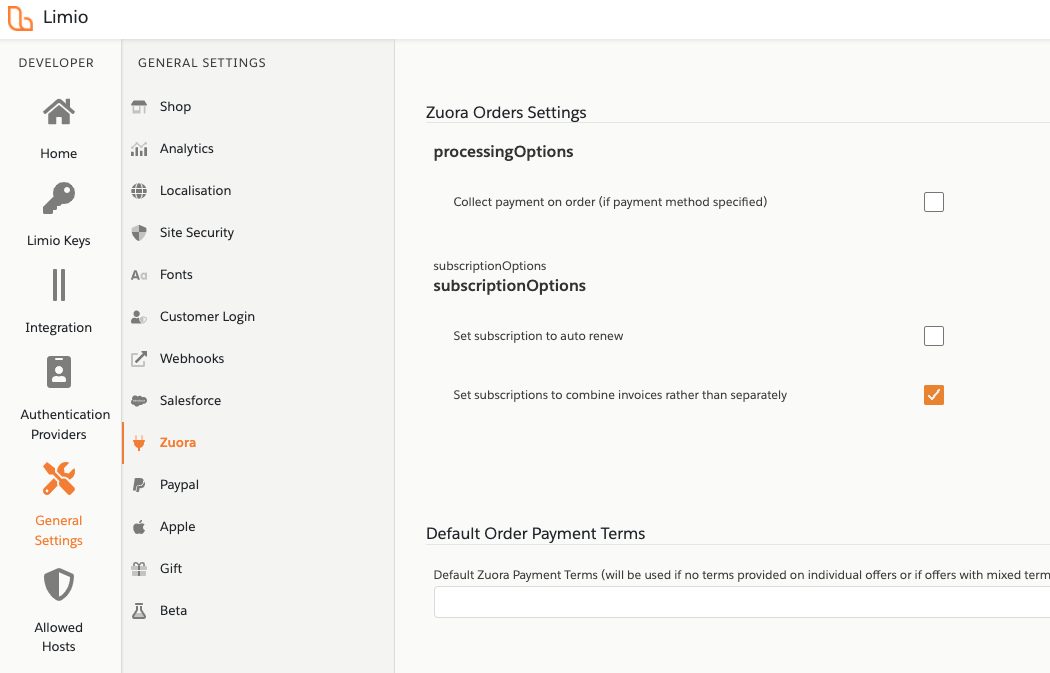 Screenshot: In General Settings you can select to combine invoices
Add and remove a label on a campaign
You can now add campaign labels similar to offer labels. Read: How to add labels on offers
These labels are very useful when you want to group campaigns which can then be used to mass build and publish via campaign label. To add a label just make sure that it is selected on the campaign template level in order for you to add it on the campaign attributes.
Editing offers on the offers table
When you have offers on the offers table you are now able to perform some actions to make changes to these offers. When selecting an offer you can update, copy and delete offers. You can also perform bulk actions.
Screenshot: When selecting an offer a menu item with the actions will appear at the bottom of the page
Add Payment Term for Zuora
Clients can now also set the default Zuora payment terms in Limio. Note: You need to set the exact payment term that exists in Zuora for the to work eg. Net 30. If no value is set the default payment terms will be use, i.e Due on receipt.
Screenshot: Default Order Payment Terms
Deleting Assets
It is now possible to delete assets form the asset page. Just navigate to the dropdown menu in the top right-hand corner and select delete. Note: When you delete an asset you need to check that your campaigns are not using that asset anymore.

Screenshot: Deleting an asset
Shop Features
Detected country at the top of the drop down list on offer page
When a user is on a live campaign and selecting the country, their detected country will now appear at the top of the list.
Phone numbers sorted alphabetically
Better user experience and benefits conversion.
Postcodes can be entered in lower case
Better user experience and benefits conversion.
Removed Features
Search - Filter Criteria
When searching, you are not able to select filter as a search criteria any longer as our customers have been pointing out that it is not useful.
Import Feature
We have decided to remove this feature as it was not used at all.
Add Directory on Campaigns
It is no longer possible to add a directory on campaigns. With the introduction of labels we have a new way of grouping campaigns.
Bug Fixes
Users cannot create 2 labels with the same name anymore.
Zuora Sync - Name and Offer price are now correct after sync.
'Publish' button in campaigns/builds is inactive after Mass-Publish where it was active before.
Limio-mobile: Page automatically scrolls up when mandatory post-code field is not populated.
Exact searches for tags are now possible and showing the correct results.
Basket updates correctly when removing items.
Process events filters are now working properly.