The Limio Self-Service portal allows a subscriber to manage their subscription. You will find here a description of the standard functionalities in it.
If you are using Limio for Zuora, all the changes happening in the portal will be made into Zuora. Learn more on How Limio events updates Zuora.
View Subscriptions
Limio allows subscribers to see 1 or multiple subscriptions stored in Limio. For each subscription, they can see key information such as their Product, Term, Start Date and Renewal Date. They can then go into different part of the self-service portal, such as the cancel or upgrade/downgrade experience.
The Limio Self-Service portal can aggregate multiple subscriptions that might sit on different accounts/systems to provide a unified view to the subscriber. Each subscription can have different level of allowed changes.
View and Edit Payments
Subscribers can also manage their payment methods within the Limio Self-Service Portal. Depending on your billing provider and payment gateway, Limio can support updates to debit/credit cards, ACH, and PayPal.
View and Edit Addresses
Billing and delivery addresses can be managed by subscribers in the Limio Self-Service Portal. Billing address will be tied to the payment methods, whereas the delivery address will only be shown for physical subscriptions.
Switch (Upgrade/downgrade) subscription
Subscribers can switch (upgrade or downgrade) their subscriptions via a dedicated flow. The change could be do a different product or a change in term, for example monthly to annual. They can also edit the quantity of their subscription. The upgrade or downgrade experience can be defined either via links between offers or via customer segmentation. Learn more at How to create a personalised switch experience.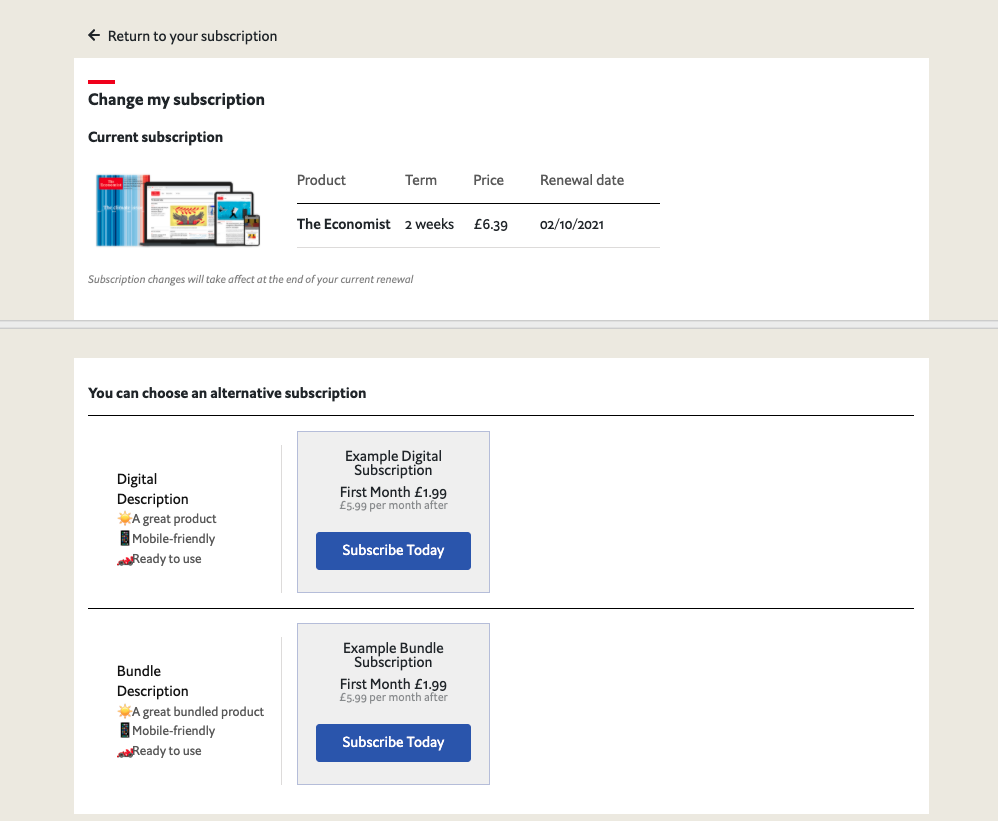 Cancel & Cancel/Save
Subscribers can cancel a subscription by going into a dedicated experience. The experience can be customised to collect cancel reasons, offer special discounts, and be personalised. More details is available on How to create a personalised cancel/save experience with Discounts or Switch Offers
Renew subscription
The Limio Self-Service portal can also detect subscriptions due for renewal or that are inactive and could be renewed. Learn more on How to create a personalised renewal experience.
View and Settle Invoices
The Limio Self-Service portal can also pull all invoices, and for those that are unpaid, enable to have them be paid.
View Customer Details
The Limio Self-Service portal can allow a customer to see and manage their personal details, such as their email, name, password and phone.
Custom experiences
Limio Self-Service use the same component framework as the Limio Shop and can be extended to cover more use cases. Learn more at: Creating your own custom components