Limio's no code subscription commerce platform is fully integrated with Zuora, right out-of-the-box, and in this user guide we will show you how to setup the Zuora Payment Gateways in Limio.

Set up in Zuora
Firstly, in Zuora -> Payments Settings you have to Setup Payment Gateways and Setup Hosted Payment Pages.
On the Setup Hosted Payment Pages, use the following values:

Once that's done, you can go to Limio's General Settings.In Zuora Knowledge Centre, you can find the information that you need to populate the relevant fields within Limio.
Set up in Limio
To access the settings in Limio for Zuora payment gateways, go to Profile -> Settings -> Zuora.
Here you can connect your Zuora account via the Client ID and Client Secret. You can also configure the Zuora Hosted Payment Pages which will appear in the shop. Each HPM can be mapped to different countries and currencies.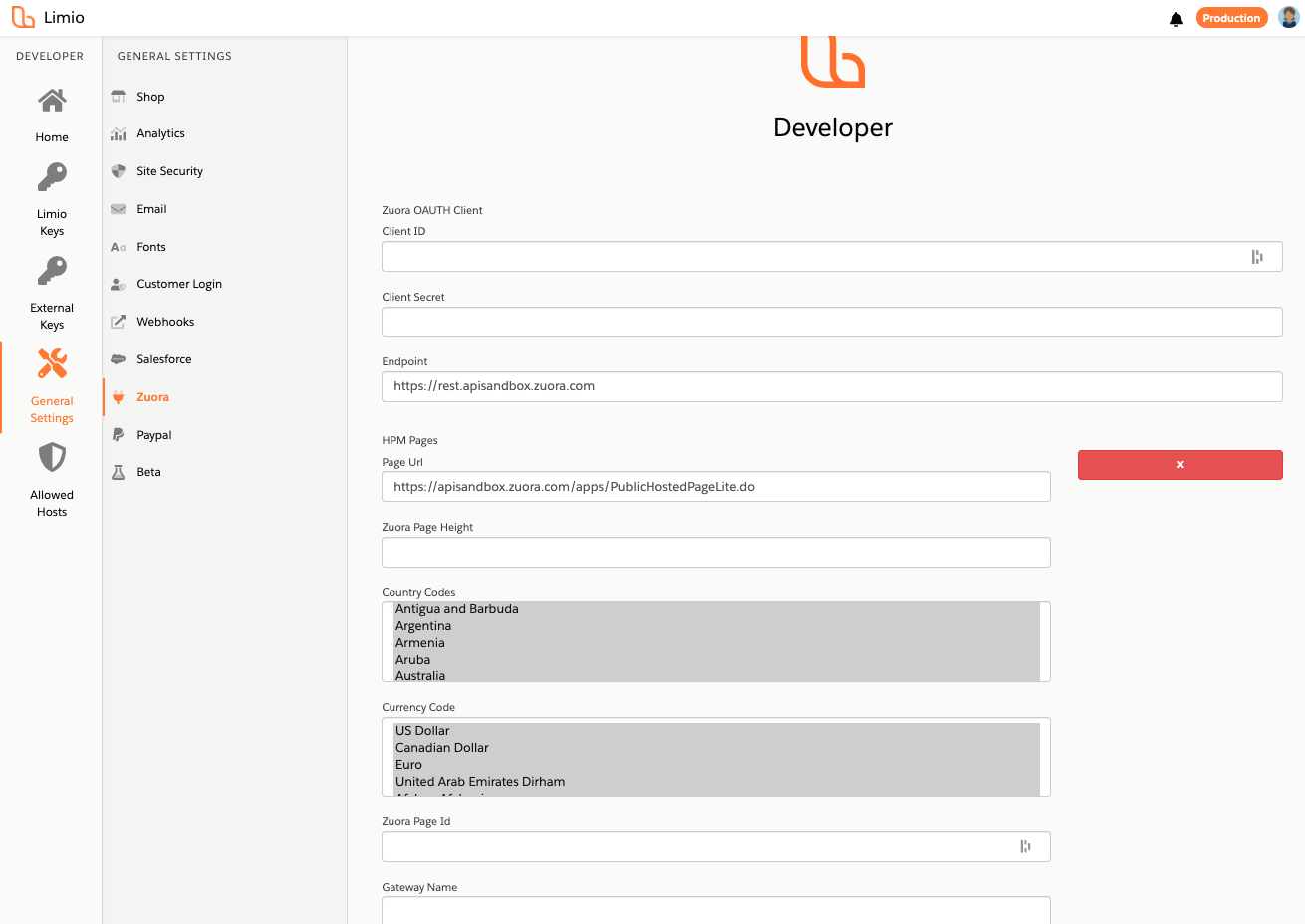 Advanced Configuration
When the customer reaches the checkout, Limio serves the first iFrame in the Zuora Settings that matches the order. As of June 2022, it's possible to provide additional payment gateway configuration information:
Transaction Type: Used to restrict the payment gateway so it's only used with Auto-Renew/One-Time subscription transactions. Defaults to 'Any'.
Transaction Amount: Used to determine which amount is used to authorise the payment method in Zuora. Defaults to 'Order'
Specific Transaction Amount: If Transaction Amount is set to 'Specific' then this is the amount that will be used for authorising payment methods in Zuora.
To help you get started with setting up the Zuora integration, please contact us at support@limio.com.

--
Related Article: How to add different payment options on your checkout