Difference between subscription gift codes and subscription gifts
Subscription Gift Codes example
With a subscription gift code, the purchaser receives a gift code, which they can then provide to the recipient. The recipient then needs to redeem their gift code to activate their subscription. A good example of this is Netflix: https://www.netflix.com/redeem.
Subscription gift code works well for subscription services. It allows for the gift recipient to create an account as part of redeeming their gift code. It also minimises the purchasing friction, as the purchaser does not need to provide any details about the recipient. Finally, it can also work well with physical deliveries which allow for personalisation, as the gift recipient can login post-redemption and customise their subscriptions.
How to configure your subscription gift code experience in Limio
Step 1. Configure your gift code offer
To sell subscription codes, create a new campaign, then create a new Offer. Activate 'This is a Gift' and 'This Is A Redeemable Gift'. Optionally, you can choose to activate 'Choose Gift Date' to record the preferred date for the gift in the order.

You will also need to set up your Initial Price. Please read How to sell gift products with Limio and Zuora for more information.
Step 2. Create your gifting Campaign
On the campaign, add any Offer component to your page, then Save.
Step 3. Create your gift checkout
We recommend gift offer to go into a dedicated checkout (e.g. /gift-checkout). You can re-use Single-Page-Checkout component and customise the props related to gifts.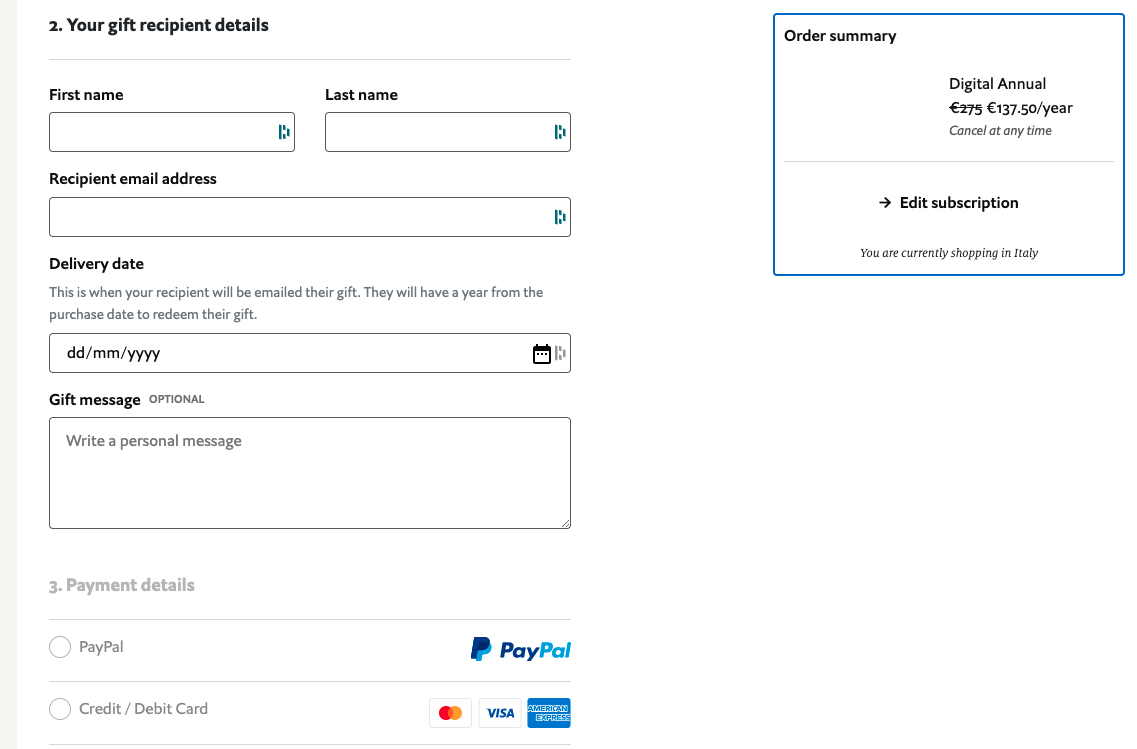 Step 4. Create your redeem page
Go to Page, create a page to allow customers to redeem a gift code. Drag & drop the 'Redeem' component and customise it. Add more components and styling for the page.
Note that it is possible for customers to skip this step and embed the gift code in the URL. It will move the customer onto the next part of the journey automatically.
Once the customer provides the code, they will typically go into an authenticated checkout. On the 'Redeem' component, set the URL of your login solution in the Redeem component prop Button Url. Usually, you will need to embed the redirect to the redemption checkout page (e.g. /redeem-checkout) in your URL. This will vary per identity solution.
Step 5. Create your redemption checkout
Create a new Page with the Redeem Checkout component. This checkout will allow the user to confirm their location as well as provide delivery address for physical subscriptions. For the user to go to the next step, set up the prop Button Url to the URL of your Redemption Complete page (e.g. /redeem-complete)
Step 6. Create a redemption complete page
Create a redeem complete page with the Order Confirmation component. This page will automatically show the gift code to the customer.
How to test your subscription gift code experience in Limio
Once you have published your pages in a sandbox environment, purchase a gift code, then go to the redeem page and provide the gift code.
You will need to provide a country, a delivery address for physical subscriptions, and complete the order (without the need to pay).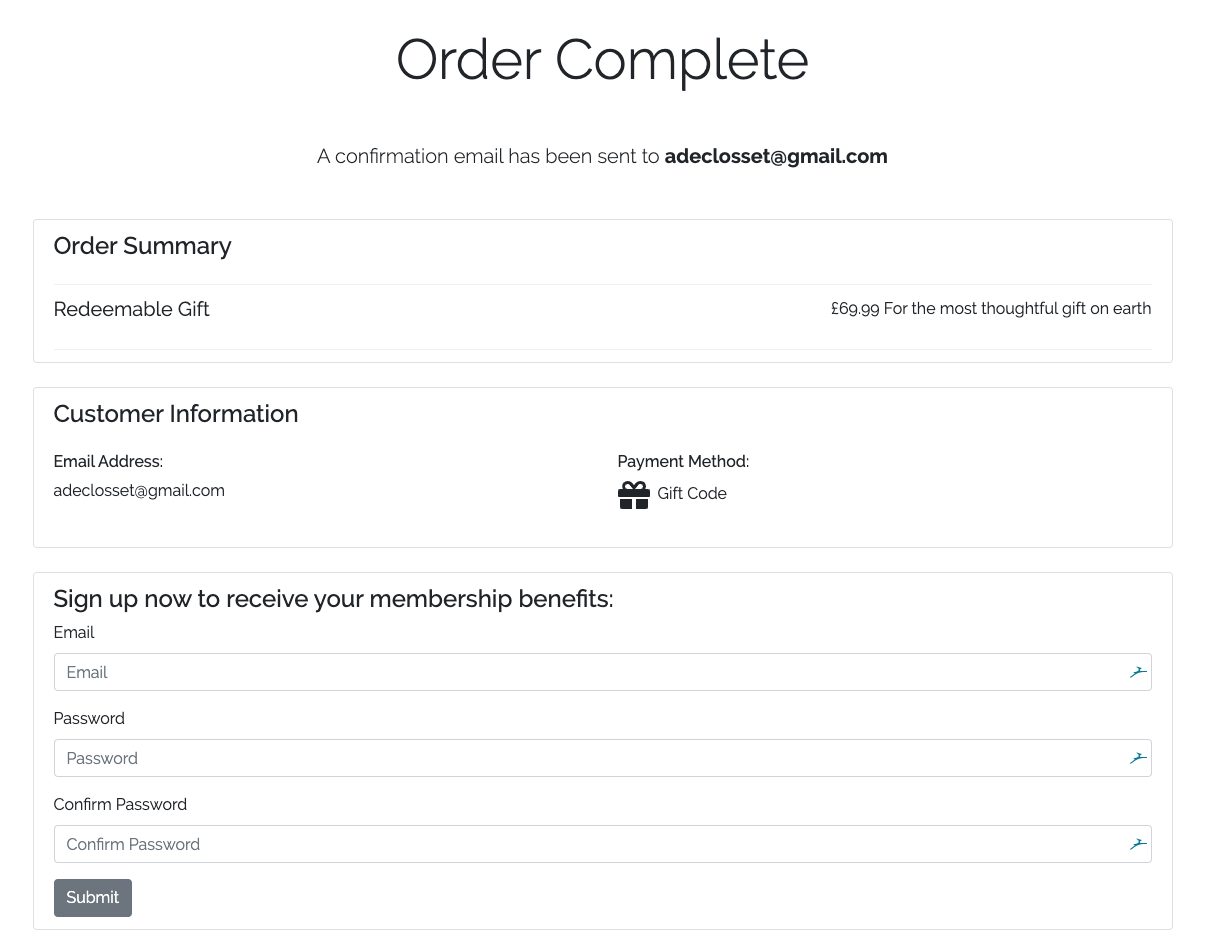 Where can I see gift codes in Limio?
Yes, you can go to Subscription > Gift Code. You will see the code, as well as expiry date, quantity and whether it has already been redeemed.
By clicking on it, you can see all the related objects, such as subscriptions, order and customer.
For an unredeemed gift, you will see the Limio Subscription created for the gift purchaser.
For a redeemed gift, you will at least two Limio Subscriptions, one for the gift purchaser and one for the gift recipient. This provides a link between the 2 subscription via the Gift Code (as displayed below).
Can I expire gift code automatically?
Yes, go to Settings > Gift code. There you can define Maximum Gift Code Age, such as 1 year. After that period, a redeemer would see an error message on the Redeem page if they tried to use the gift code.
What can the gift recipient do in Limio Self-Service?
Gift recipient will have a limited Manage My Account experience. They can edit their information such as delivery address. However, they won't:
Have a stored payment method

See the price

Manage or edit their subscriptions